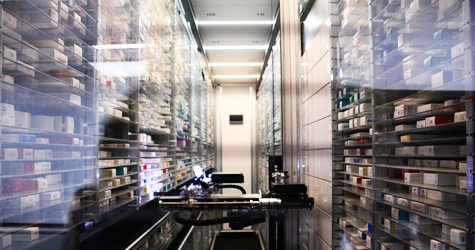 "The pharmacy department is e-service-oriented department, which provide extensive support to the care mission of the hospital. In participating with the hospitals philosophy of providing the highest quality health care services, the sole purpose of this department is assuring timely quality drug therapy, consistent with optimum patient care."
The Pharmacists, Assistant Pharmacists and Support staff of the pharmacy department endeavor to provide support for the physicians, nurses, and other department of the hospital in all matters regarding medication, and serve as a resource of drug information to those who prescribe, administer and consume medication. In addition, to the provision of compassionate care to inpatients and ambulatory care patients of The Bahrain Defense Force Royal Medical Services Hospital.
We promote and implement medication practices which enhance patient safety, and strive to ensure that there is a seamless continuity of drug therapy between The Bahrain Defense Force Royal Medical Services Hospital and the community. As part of a multidisciplinary team, pharmacists are responsible for monitoring and optimizing the outcome of drug therapy of individual patients.
We provide a dynamic learning environment and collaborate with educational institutions in training pharmacy students, residents, and technicians. We also promote and provide an active staff continuing education program to further development of our Services.
Pharmaceutical Services in Royal Medical Services
The pharmaceutical Services department in Royal Medical Services Hospital consists of 3 pharmacies. Each pharmacy plays a unique role in patient services. The pharmacies and services provided are: ​
Outpatient Main Pharmacy
Outpatient GP Pharmacy
Outpatient Dental Pharmacy
Inpatient Pharmaceutical Services
Main Pharmacy provides its services to entitled out patients / A/E patients & nursing units. Services are accomplished with fully automated robotic medication dispensing system for outpatients aiming in reducing both the risk of human error and waiting time to increase patient satisfaction. In addition to this, automated highly secured medication dispensing system [Pyxis-Medstation] has been allocated at all wards/units for in-patients, which reduce the risk of human error.
GP Pharmacy provides its services to entitled patients seen by General Practitioners in RMS.
Dental Pharmacy provides its services to entitled patients seen by dental doctors.
Pharmacy
Location
Working Days
Working Time
Tel. Number
Main Pharmacy
Old Hospital
Sunday - Saturday
24 Hours
17766746
GP Pharmacy
GP Clinics
Sunday - Saturday
07:00am-02:00pm / 02:00pm-11:00 pm
17766744

Private Pharmacy

Dental Clinics

Sunday - Thursday

Friday-Saturday

08:00am -02:00pm / 03:00pm - 10:00 pm

09:00am -02:00pm

17766747

Cardiac Pharmacy
Dental Clinics
Sunday - Thursday
07:00am - 02:00pm
17766742
Dental Pharmacy
Cardiac Centre
Sunday-Thursday
07:00am- 02:00pm
17766085